Village of the Missing
The Bruce McArthur serial killer case shocked Canada's largest city, and the whole country, when he was convicted of eight grisly murders. How did McArthur avoid arrest for nearly a decade? This film explores the untold immigrant story of Toronto's Gay Village, and the victims of these horrific crimes.
The Great British Dig: History in Your Garden
Hugh Dennis and a team of expert archaeologists excavate back gardens around Britain, in an attempt to uncover the lost history buried beneath our lawns and flower beds
Uprising
1981: a devastating fire leaves 13 black teens dead. The protests, unrest and accusations of indifference defined race relations for a generation. From director Steve McQueen.
Ancient Mysteries
The work of experts exploring historical mysteries.
The Boleyns: A Scandalous Family
An epic three-part series that charts the rise and fall of the Boleyns. A story of love, sex and betrayal, told from the the family's unique perspective.
Secrets of the London Underground
Railway historian Tim Dunn teams up with Siddy Holloway from the London Transport Museum to explore the disused parts of London's tube network, from abandoned stations to redundant tunnels and lifts, often hidden right under passengers' noses.
Abandoned Engineering
Research into why and how large projects were built, the financial and social costs of their failure, and the consequences for the environment. Experts present plans to make something new from the ruins.
The People's History Show
The People's History Show looks back in time to discover the places and people that make up Scotland's shared history.
The Blitz: Britain on Fire
Historical series exploring how Liverpool was bombarded for eight days in May 1941.
My Family, the Holocaust and Me
Robert Rinder helps Jewish families discover the full truth about what happened to their relatives during the Holocaust.
The Architecture the Railways Built
Transport historian and architecture enthusiast Tim Dunn celebrates the radical design and often challenging construction of many station buildings across the UK and Europe, from grand edifices in major cities to tiny rural stations serving small communities.
A Big History of America
From its first Viking visitors a millennium ago to the Pilgrim Fathers settling at Plymouth Harbour, to independence, the gold rush, civil war, and abolition of slavery.
Freeview at home and wherever you are
You can now enjoy your favourite Freeview shows on your mobile or tablet. Browse great shows from BBC iPlayer, ITV Hub, All 4, My5 and UKTV Play, wherever you are.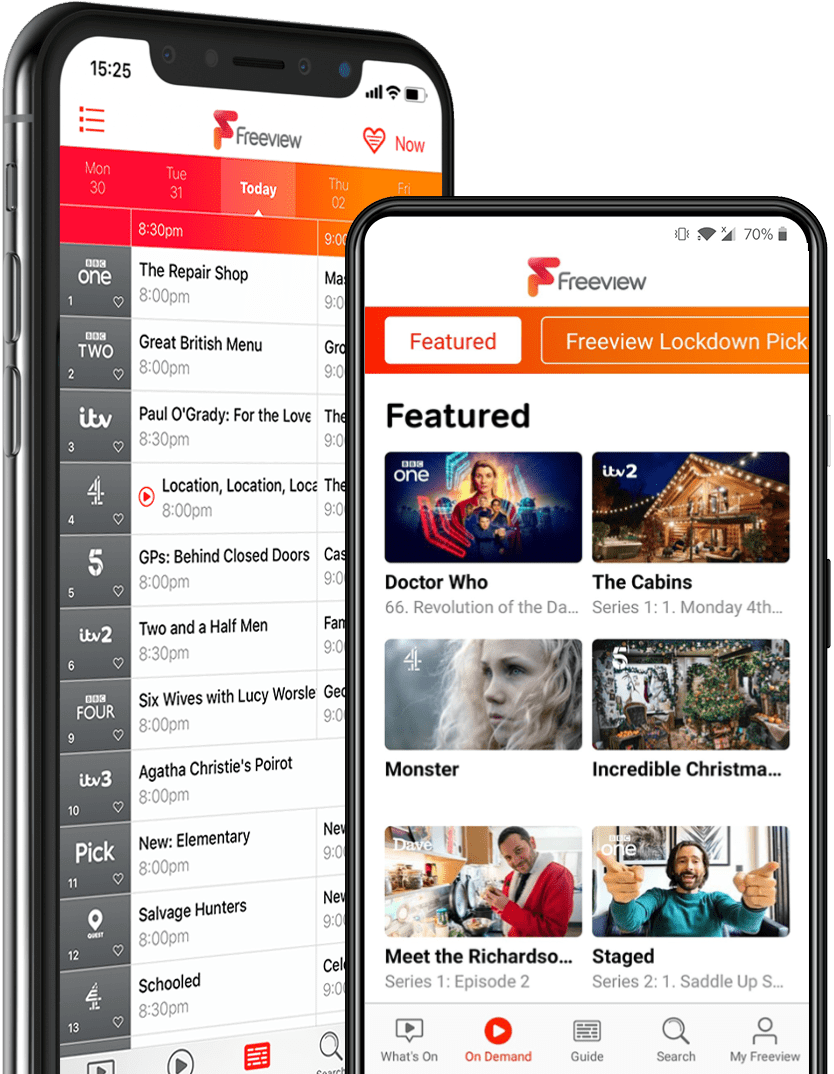 Ready to get Freeview Play?
Freeview Play offers an impressive 30,000+ hours of TV and over 700 boxsets, across your favourite on demand players. All for free. 
Let's find the perfect set up for you.