Count Abdulla
For junior doctor Abdulla Khan, this time of year is complicated. Torn between the Halloween party of the year and the Eid gathering his dear mother Bushra expects him to attend, Abdulla does his best to get to both.
The Rook
Supernatural spy thriller. A woman wakes up in the middle of London with no memory, surrounded by dead bodies. Who is she? And what happened? Starring Joely Richardson and Olivia Munn.
The Tatami Galaxy
A college dropout in search of ramen crosses paths with a self-proclaimed deity of matrimony.
12 Monkeys
Twenty-seven years after a virus wipes out most of humanity, scientists send a man - James Cole - back to 2015 to stop the plague from happening. Cole's only lead is a virologist, Dr. Cassandra Railly, who knows the dangerous source of the outbreak.
Gotham
Commissioner Gordon is one of the crime world's greatest foes, his reputation synonymous with law and order. But what is known of his story and rise from rookie detective?
Humans
The critically acclaimed drama series set in a parallel present where the latest must-have gadget for a busy family is a Synth - a life-like humanoid. Starring Gemma Chan, Katherine Parkinson, and Colin Morgan.
Terminator: The Sarah Connor Chronicles
A warrior and single mom hides from a government out to get her and her teenage son.
The Originals
Klaus returns to New Orleans where he has an unexpected reunion with his former protégé, Marcel, a charismatic but diabolical vampire who now has total control over the supernatural inhabitants of New Orleans.
What We Do In The Shadows
Following three vampires who have been roommates for hundreds and hundreds of years, in Staten Island. Directed by Jermaine Clement and Taika Waititi. Starring Natasia Demetriou, Kayvan Novak, Matt Berry, and Kristen Schaal.
Midwinter of the Spirit
Priest and trainee exorcist Merrily Watkins is asked by the police for her help in solving a baffling and gruesome murder.
Freeview at home and wherever you are
You can now enjoy your favourite Freeview shows on your mobile or tablet. Browse great shows from BBC iPlayer, ITV Hub, Channel 4, My5 and UKTV Play, wherever you are.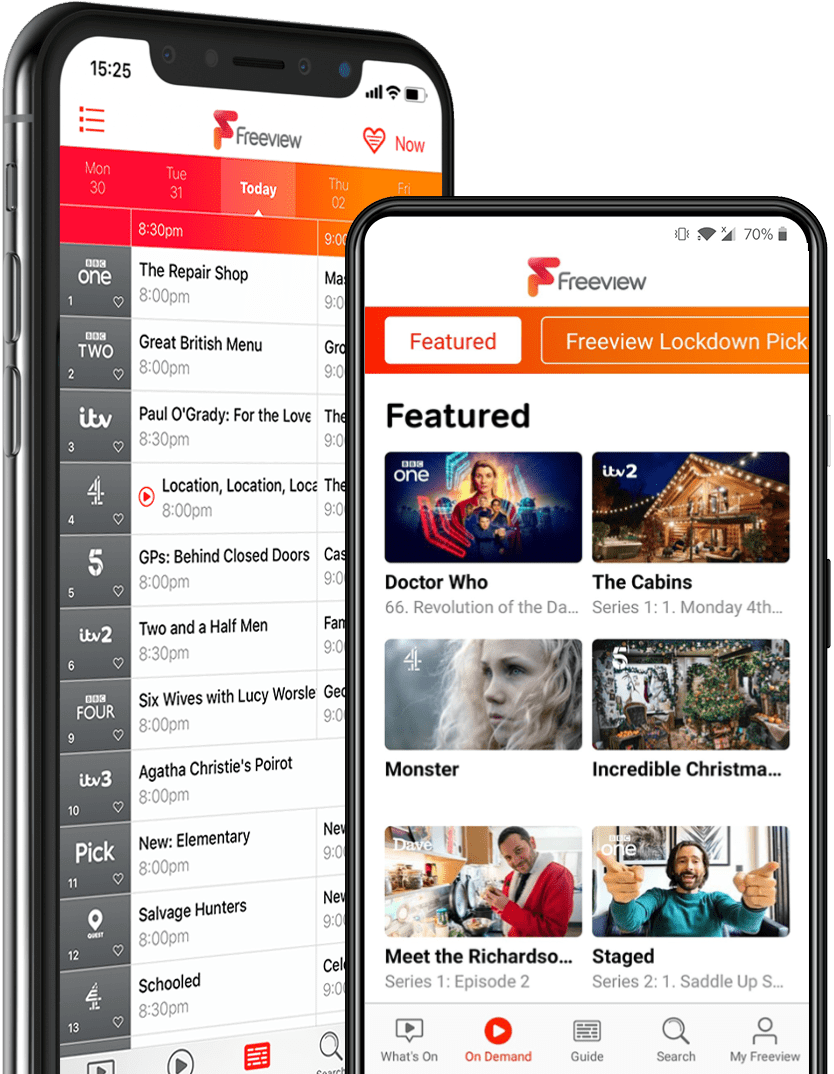 Ready to get Freeview Play?
Freeview Play offers an impressive 60,000+ hours of TV and over 1500 boxsets, across your favourite on demand players. All for free. 
Let's find the perfect set up for you.