Problems watching programmes on Freeview?
What channels could I get on Freeview?
What do I need to get Freeview Play?
To get the best service from Freeview it is important to retune from time to time to keep your channel line-up and TV service up to date.  
This can usually be done by running an automatic retune. Some Freeview TVs do this by themselves, but some require you to select it from the settings menu. 
There are other times where an automatic retune won't restore your viewing and you'll need to perform a manual retune on your TV. This may be needed if you are getting the wrong regional programming and need to change the transmitter you get your signal from. 
What buttons to press on your remote control?   
Rather like an automatic retune, the procedure for doing a manual retune varies by manufacturer so if you're unsure what buttons to press, check out your instruction manual or download one from your TV manufacturers website. If you've found how to do an automatic retune in your TV settings menu, then manual retune should normally be nearby. 
Note: The instructions in this article should work for most Freeview TVs or boxes, but designs can differ, if you are unsure of what buttons to press on your remote or where to find the manual retune option on your TV please visit your manufacturer's site where you can download the manual for your device. 
Manufacturer websites
(links open in new window) 
How to find the frequency information you'll need to do the manual retune
1. Open the Detailed transmitter information (opens in new window).
2. Enter your address details in the postcode and house no boxes. 

3. Once the new page opens, you'll see a table of transmitters with the most likely transmitter at the top, this is the transmitter that you'll tell the TV to tune into.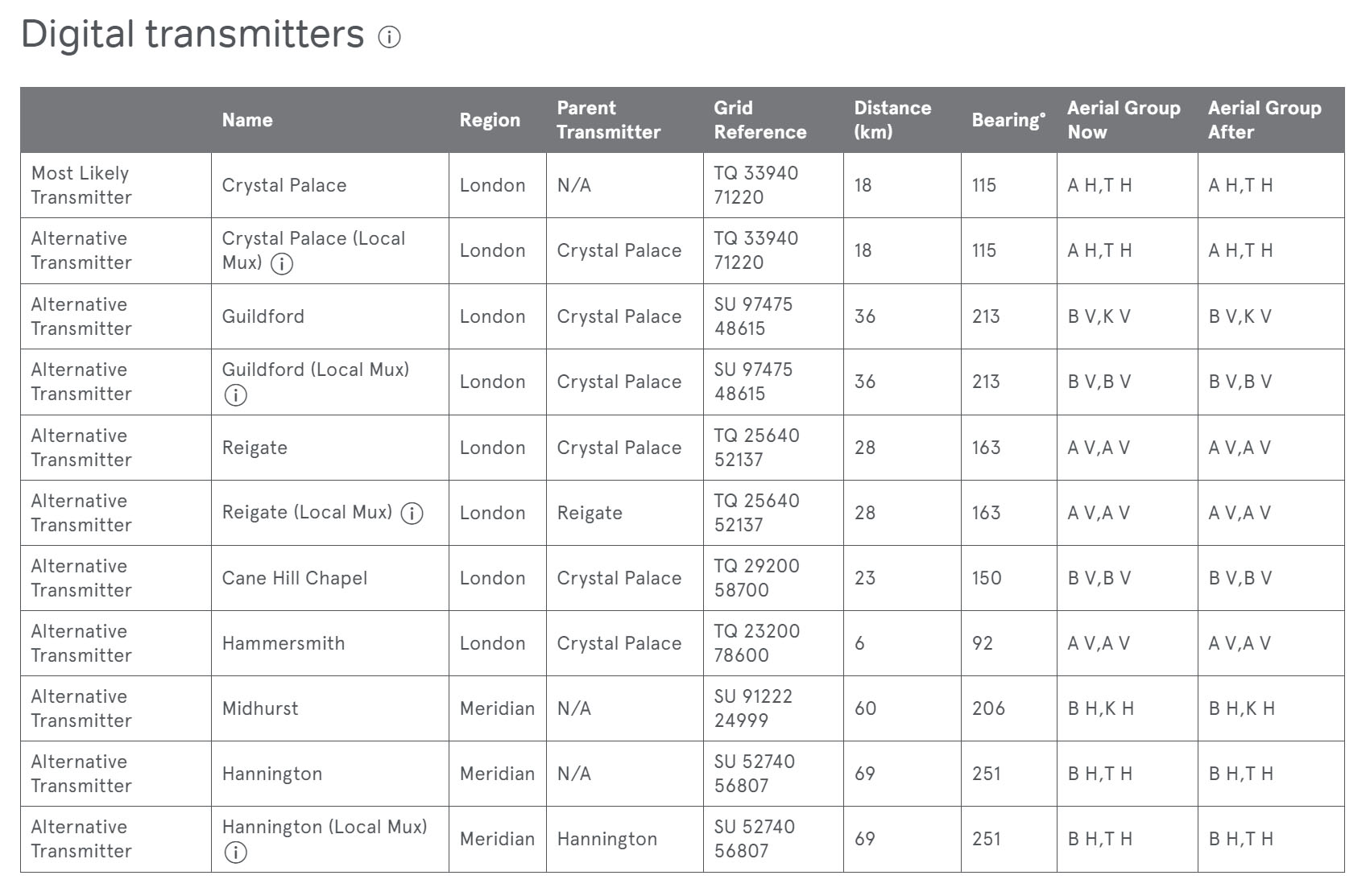 4. Find this transmitter in the tables below marked as "Coverage Prediction". If you found a different transmitter in the table that you would prefer to link to, then just find this in the "Coverage Prediction" section.   
For the next steps, you'll need to keep this page open to get the frequency numbers.

The numbers you'll need are the numbers that are listed on the row marked "Now" underneath all the columns marked "N".  In the example below, the numbers to be entered would be 23, 26, 30, 25, 22, 28 and 55.  (Highlighted in yellow in the example below)  

When your TV asks for a channel number, enter the first number where the row "Now" crosses with the first column "N.  
You'll need to tell the TV to scan, tune or start when you've entered the number.  In the example above, the first number to enter would be 23.    The TV will then search for all the channels that are contained within this group. 
Once this is done and channels are stored, move onto the next number where the row "Now" and column "N" cross.  Enter this number in.  Again, you'll need to tell the TV to scan, tune or start when you've entered the number.  In the example above the second number is 26. 
5. Repeat the steps moving left to right on the table starting with BBC A and ending with COM7 HD to complete the manual retune.
6. Then press 'menu' or 'exit' to finish. 
After retuning 
You might find that your channel favourites and scheduled recordings are also deleted after retuning, so you'll need to check and reset them. But any recordings you've already made should still be there. 
However, if your set top box or TV still isn't working correctly, you may sometimes need to clear its memory completely, or reboot it. If you have any problems, check your device's user manual, or get in touch with the manufacturer.