The ultimate TV and takeaway pairings revealed, backed by science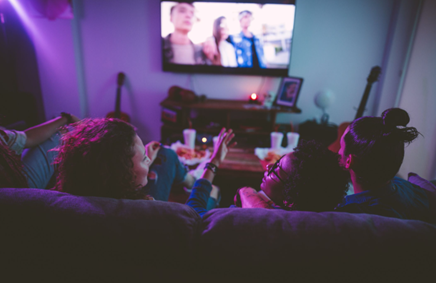 With nearly half of the nation arguing about which takeaway to order, Freeview – the UK's biggest free TV service – partners with nutritionist and author Rob Hobson to analyse the best food and TV show combos.
New research from Freeview has revealed that on average, Brits spend 15 minutes or more deciding which takeaway to order – and with each of us typically ordering more than 3 x takeaways per month, that's more than a full day's work over the course of a year. Friday and Saturday (70%) are the most popular days for takeouts, resulting in precious weekend time being frittered away on food picks.
The survey of 2,000 people also found that the average person spends 12 minutes choosing what to watch next on TV, every day. What's more, with 43% reporting that choosing takeaways has caused arguments, it's clear the nation finds it difficult to make quick decisions when it comes to cosy nights in.
To make those crucial decisions easier, Freeview enlisted the help of food expert Rob Hobson to uncover the most complimentary cuisines to accompany popular TV genres. With over 60,000 hours of content available on Freeview Play - spanning comedy to drama and everything in between - the pairings are designed to save TV and takeaway fans a little time each weekend.
Examining the composition of a variety of takeaway meals, including vitamins, minerals, and macronutrients, Hobson identified the best dishes to enhance the viewing experience of different types of TV shows.
THE BEST TV + TAKEAWAY PAIRINGS REVEALED:
1.   Romance + Mexican
2.   Comedy + Sushi
3.   Crime + Indian
4.   Drama + Italian
5.   Sci-fi + Chinese
"Watching TV is a multi-sensory experience in the same way as tucking into a good plate of food. Research has shown that certain nutrients can help to support your mood so I have linked your favourite takeaway with the type of TV you're watching so you can really amplify the viewing experience", say Hobson.
 FEELING SPICY
 Watching a romance? Packed with ingredients thought to be aphrodisiacs, Mexican food is the best cuisine to get you in the mood for love. Spice up your night in with tasty tacos, bursting with endorphin-stimulating chillies, add in some guacamole rich in mood-regulating magnesium, and you've got a steamy date night for two parked in front of the telly. With shows such as ITV's You & Me or teen classic Love, Victor (BBC iPlayer) providing the entertainment, Hobson also recommends enhancing that loving feeling with a plate of ceviche, a fish dish containing high levels of zinc (good for libido).
More show suggestions: Starstruck (BBC iPlayer), The Bisexual (Channel 4), The Confessions of Frannie Langton (ITVX)
THAT'S SOY FUNNY 
If you're watching a comedy, you can boost the feel-good brain chemicals released every time you laugh with a sushi feast. As endorphins flood the brain, serotonin activity is increased, leading to improved mood and reduced stress. Next time you tune into BBC's Ghosts or US hit Abbott Elementary on Channel 4, try ordering a salmon maki roll, edamame beans, and nutrient-rich beef tataki to bump up your serotonin levels with tryptophan and vitamin B6. Delicious.
More show suggestions: Changing Ends (ITVX), Sneakerhead (UKTV Play), Hullraisers (Channel 4)
CRIME AND NOURISHMENT
 Obsessed with crime thrillers, like ITV's Love & Death? Pick Indian dishes such as lentil daal (packed with anti-inflammatory spices like ginger and fennel) and potato-and-cauliflower-based Aloo Gobi (with blood pressure-lowering potassium) to help your heart and stomach cope with suspenseful scenes. Essential for any complete Indian takeaway, Hobson also notes that plain rice is "easy to digest for anxious stomachs" and pairs well with stronger curry flavours.
More show suggestions: Screw (Channel 4), Mrs Sidhu Investigates (UKTV Play), Witness Number 3 (My5)
A PIZZA THE ACTION
Pizza lovers will be pleased to hear that Italian food works best for tuning into one of autumn's hot new dramas, such as BBC's Bad Behaviour. Grab yourself a slice of pizza drizzled with antioxidant-loaded olive oil and protein-rich prosciutto to support energy levels, plus focus-boosting omega 3 from a fish-based pasta dish.
More show suggestions: Time (BBC iPlayer), Six Four (ITVX), The Ex-Wife (Channel 5)
SESAME CHICKEN, SCI-FI-STYLE
Mind-bending subject matters deserve out of this world flavour, so fans of Doctor Who and other sci-fi picks should order Chinese takeaway with dishes like sesame chicken, egg fried rice, and salt and pepper tofu. Full of focus-boosting omega 3, choline for memory and concentration, and vitamin B for brain health, you'll never lose track of a tricky plot again.
More show suggestions: Under the Dome (My5), Humans (Channel 4), We Are Not Alone (UKTV Play)
The results of the survey also showed that Strictly Come Dancing and other finales are a big driver for takeaway orders, with the survey revealing 65% pre-plan a delivery for big TV events – that's especially true for shows such as The Great British Bake Off, with 49% reporting feeling hungrier when watching foodie scenes on screen.
Eating takeaways in front of the TV is clearly something of a national pastime – and to celebrate this British institution, Freeview is launching a competition that will see two lucky winners awarded a £150 Deliveroo voucher to share with a friend.
Running from Thursday 2nd November to Thursday 9th December, entrants can find all the information they need over at @freeviewtv on Instagram. https://www.freeview.co.uk/tv-and-takeaway
ENDS
About Freeview
Used in over 16 million homes, Freeview is the UK's largest TV platform, delivering a seamless combination of live, on demand, and catch-up content. Meanwhile, its hybrid broadcast and online TV service Freeview Play offers a fantastic alternative to paid TV subscriptions for anyone that wants to cut monthly bills, providing instant access to the nation's favourite TV completely free of charge. 
Offering over 60,000 hours of on demand content and more than 1,500 boxsets alongside over 70 live channels, Freeview Play is host to 12 on-demand players, including BBC iPlayer, ITVX*, Channel 4, My5, UKTV Play, CBS Catch up Channels UK, PBS America, Great! Player*, S4C Clic*, STV Player, POP Player and BBC Sounds. 
As a gateway to the hottest TV shows, boxsets, and movies, Freeview Play users can enjoy everything from thrilling live sports fixtures to the most talked about reality shows of the year – and best of all, it's built into most TVs already. For those that don't have a Freeview Play TV at home, a set-top box is all that's required to get watching.
The Freeview platform is operationally managed by Everyone TV (previously Digital UK). The companies have three common shareholders - BBC, ITV, and Channel 4. Sky is a shareholder in Freeview and Channel 5 is a shareholder in Everyone TV.
About Rob Hobson
Rob Hobson MSc is a registered nutritionist with 18 years of experience. His London based consultancy RH nutrition works with private clients and leading health and wellness brands. Rob is also the author of three successful books on food and nutrition sold globally. Instagram handle @robhobsonnutritionist.
About the survey
 The findings are based on a survey of 2,000 consumers in the UK nationally represented on the basis of age, gender, and region. It was conducted in October 2023.
*ITVX, Great! Player, and S4C Clic are not available on some older Freeview Play devices.