This week we announced that the first ever Freeview Play Android models are available to buy now. 
But, what does Android TV really mean? Very simply put, Android TV is Google's Android mobile operating system, but on your TV. 
It has been designed to bring you a similar kind of experience you might be used to on your phone, with an easy to use interface and tons of apps available to download via Google Play. 
Here are some of the key Android TV features you need to know about.
A whole lot of content…
With Freeview Play on board, your Android TV gives you access to over 20,000 hours of on demand content for free. It means that BBC iPlayer, ITV Hub, All 4, UKTV Play, My5, CBS Catchup Channels UK and Horror Bites, are all built in to the TV.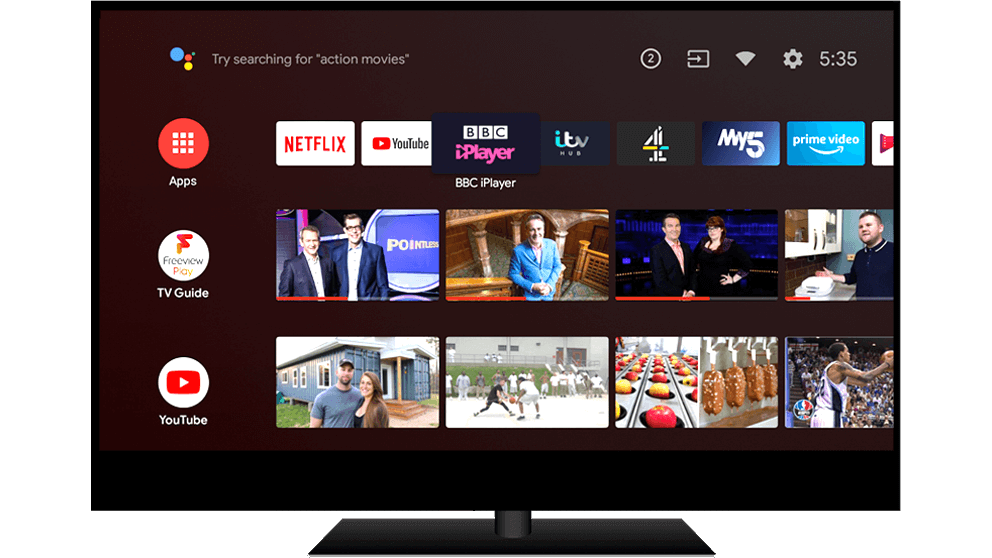 That's a whole lot of content, and that's before you add on Netflix, Amazon Prime and YouTube, which are also pre-downloaded onto Android models. 
The Android TV interface has therefore been specially designed to make content discovery as smooth as possible, with the Freeview Play content recommendations taking centre stage, making it much easier to choose what to watch.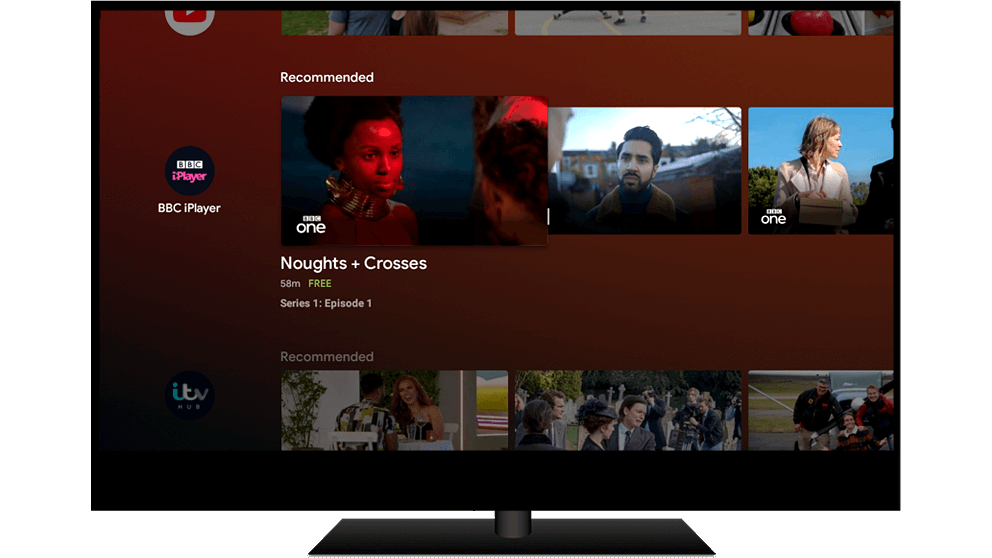 There is also an 'On Now' section, so you can easily scroll through and preview the options from Freeview's live channels, to see what takes your fancy.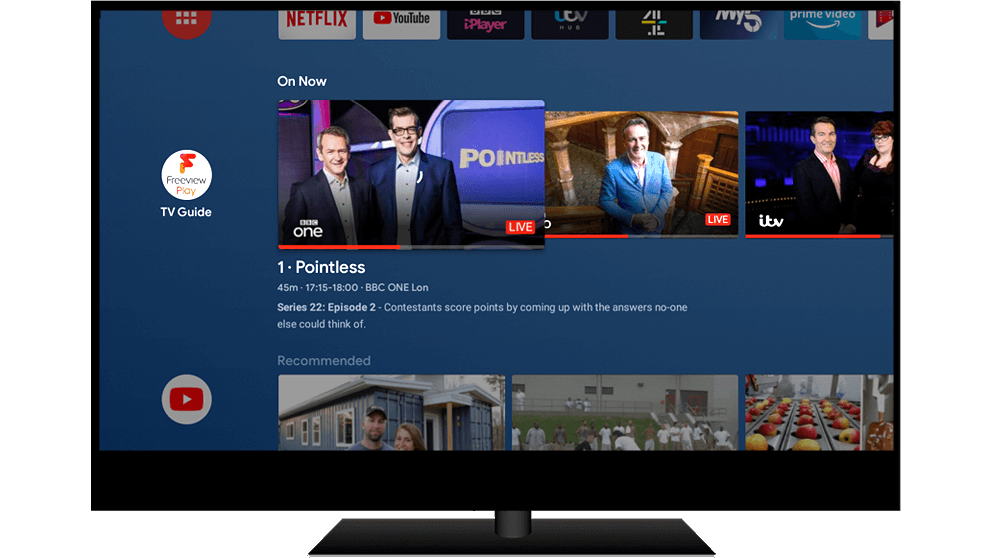 Google Play
Another big draw is the wealth of apps available to download on to your TV from Google Play - which is of course also built in to the TV.  
You can't get all the same apps as you would have on your mobile, but with Google Play Games there's also hundreds of games to choose from. 
Android TV supports single player, multi player, online and offline gaming. You can use up to four gamepads, or Android phones or tablets if you are competing against friends. 
Voice
You can also use Google Assistant for some controls on an Android TV. 
There are the classic commands such as volume control, or play, pause, and stop, but because you know, it's Google, you can also use it to find out everything you have ever wondered about a particular show you are watching. 
Ask for more information on, say the BBC's new Noughts+Crosses drama, and Google Assistant will provide the cast and production information, as well as everything else in between. 
Chromecast 
Android TVs also come with Chromecast built in, which makes it super easy to cast whatever you want from your mobile or your laptop to the big screen - whether that be a movie, music, or simply your latest holiday snaps. 
How can you get a Freeview Play Android TV?
If you are looking to buy an Android model, Sharp and Philips' Android TVs are now Freeview Play enabled and available to buy in shops now. 
More manufacturers will soon be launching their Freeview Play models, including TCL's Android TVs which will be in stores from 31st March.
Stay tuned for updates. 
Find out more about Freeview Play here