Bored of trawling through endless platforms to find your favourite TV shows for free? Freeview Play might be the answer you've been searching for. The free (yes, free) service brings the nation's most-loved shows, movies, and boxsets into one, easy-to-navigate app that you can access on your TV or set-top box – and best of all, it's a breeze to setup.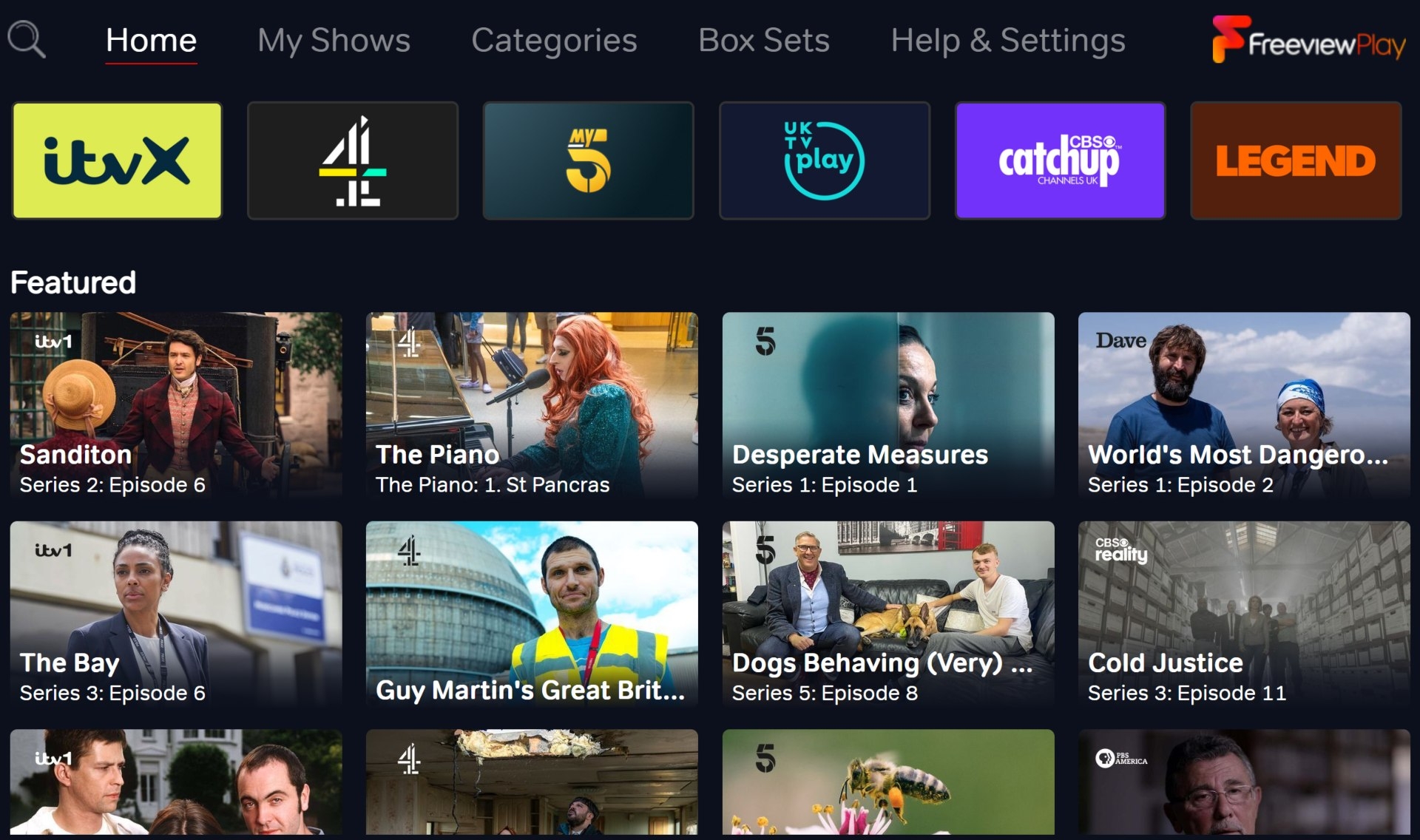 One of the most frequently asked questions we're asked at Freeview is whether you need an aerial to take advantage of all that fantastic free content. The answer depends on how you plan on watching TV – and no, you don't necessarily need an aerial to get watching!
But first, let's take a quick look at the basics.
What is an aerial?
 An aerial (also known as a TV antenna) is a device that allows your TV to receive over-the-air signals broadcasted by TV stations.
Outdoor aerials are the most reliable when it comes to getting a strong signal, but indoor aerials are a good solution if you're unable to install one outside. These are easy to hook up to your TV and can be placed on a windowsill or media console. There are also in-loft aerials, which – you guessed it – live in your loft or attic.
Can I watch Freeview channels without an aerial?
 You can! But there is a small caveat. Without an aerial, you won't be able to watch live TV via the Freeview TV Guide on your telly. However, with an Internet connection, you can still get access to (in our humble opinion) the best TV platforms in one handy place, including BBC iPlayer, ITVX*, All4, My5, UKTV Play, Legend, CBS Catch up Channels UK, PBS America, STV Player, POP Player, and BBC Sounds.
Depending on which platform you're using, you'll even be able to watch live TV shows. BBC iPlayer, ITVX and My5 all have their own in-app live players so you can watch BBC News at Six, catch the football on ITV or see the latest episode of Love Island and get straight onto Twitter to see what everyone's talking about as the show airs.
These apps also allow you to tune into boxsets, and catchup with on-demand shows – no aerial necessary. Simply head to Channel 100 on your Freeview Play TV, open the Freeview Play app on your smartphone, or visit the Freeview TV Guide in your browser.
Why might I need an aerial to watch live Freeview Play?
Freeview Play delivers a combination of live TV shows and on-demand players, including BBC iPlayer, ITVX, All 4, My5, and more. If you want to watch live TV via the Freeview TV Guide on your TV, you will need an aerial. If you already have an aerial, make sure the cables are undamaged and connected to the aerial point in your home; it should be securely plugged into the socket in the back of your Freeview Play TV or set-top box.
If you're having problems viewing channels, visit our dedicated aerial troubleshooting page for advice.
Is it worth getting Freeview Play if I don't have an aerial?
 Simply put – yes! With Freeview Play, you can find all your favourite on-demand players in one convenient place, with over 60,000 hours** of glorious content to enjoy.
Instead of having to browse through every platform separately, Freeview Play allows you to search for your favourite shows, browse our recommendations displayed by genre, see our top trending series, and visit our Help and Alerts section to find out what's new and how to get help with your Freeview service.
What's the best aerial to watch live Freeview TV?
Buying a new aerial? We recommend an outdoor wideband aerial, also known as Type T (for total) or Type W (for wideband), as these cover the full range of signals used to transmit digital TV and will continue to work if there are changes to your TV signals. It's worth checking which channels are predicted to be available in your area before you install your aerial – head to our channel checker page for more information.
Will an indoor aerial work for Freeview TV?
Absolutely - if you can't use an outdoor aerial, you could opt for an in-loft or indoor portable aerial. This is a simple, low-cost option that's ideal if you're renting, though it's worth bearing in mind that'll you'll need to be in an area where there is good reception. A windowsill at head height is what we'd recommend and be sure to keep it away from other electronic devices that could cause interference.
You can buy indoor aerials from more electronics retailers, DIY stores, online shops, and even some large grocery chains.
How do I install an outdoor aerial? And how much does it cost?
Fear not – you don't need to climb up on your roof to install your aerial yourself. You should always use a qualified aerial installer who will be comfortable working at heights and will have information on transmitters in your area. Head to GetMeViewing*** to find a local CAI-approved aerial installer.
 While there is a cost associated with both installing/replacing an outdoor aerial and installing an indoor aerial, an indoor aerial is likely to be substantially cheaper. If you're not sure which aerial to choose, Which? has a handy guide to the best indoor aerials.  Be sure to shop around and gather a few quotes before committing – you could save yourself a lot of money.
Want to read more about aerials?
How to connect my aerial and Internet on my TV
**ITVX not available on all Freeview Play devices.
**All the information in this press release about hours of content and number of boxsets includes devices supporting the ITV Hub or the ITVX application.
***Freeview is not directly affiliated with the Confederation of Aerial Installers.