We all need a bit of comfort right now, and what better way than exploring British film history. Talking Pictures TV on Channel 81 is devoted to showing the rarest and greatest gems from the film archives. 
There's loads to choose from, so take a look at our top picks for the week ahead, and settle in for some classic entertainment. 
Houdini, Saturday 2nd May at 7:40pm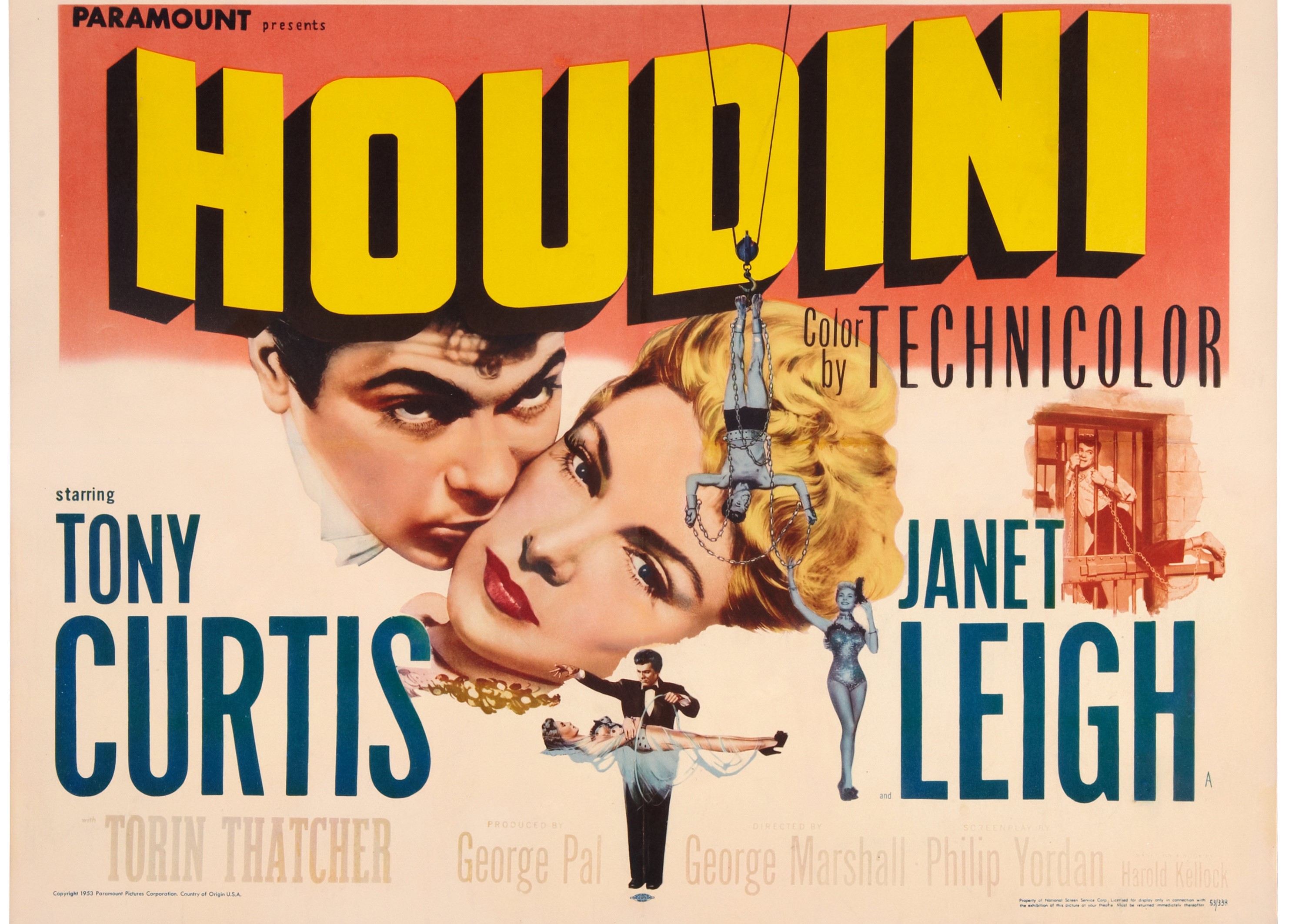 Directed by George Marshall, released in 1953. Tony Curtis is the great Houdini, the circus performer who became the world's most captivating magician and escape artist. From his beginnings as a carnival act to escaping from a locked trunk in an icy river, the film portrays the amazing life and courage of Houdini. Janet Leigh plays his supportive wife who stood by his side throughout his legendary career. 
King Creole, Sunday 3rd May at 3:40pm 
Musical Drama. Directed by Michael Curtiz. Stars: Elvis Presley, Carolyn Jones, Walter Matthau. Elvis Presley plays a teenager who is forced to drop out of school to support his father. Saved by a saloon-keeper he lands up a job as a singer, attracting the attention of a local crime boss. 
Small Hotel, Tuesday 5th May at 7:50pm
Comedy, directed by David Mcdonald, released in 1957. Stars: Gordon Harker, Marie Lohr, John Loder, Billie Whitelaw, Irene Handl, Janet Munro, Francis Matthews, Ruth Trouncer. At a small hotel, Albert, is an aged but very shrewd waiter. When Albert finds out his job is in jeopardy, he resorts to spying and extortion to attempt to outwit his rival.
Bless this House, Wednesday 6th May at 7:10pm
Comedy, directed by Gerald Thomas and released in 1972. Stars: Sidney James, Diana Coupland, Sally Geeson. In British suburbia a middle aged homeowner Sid Abbot wants to build an illegal whisky still, but when a new family moves in next door, classic comic hostilities ensue. 
The Cotton Club, Thursday 7th May at 10pm 
Crime drama, directed by Francis Ford Coppola and released in 1984. Starring: Richard Gere, Diane Lane, James Remar, Bob Hoskins. A young 1920's cornet player saves the life of a much-feared mobster and finds himself being drawn into his world. Based on a famous Harlem nightclub, the action is peppered with famous jazz music from the 20s and 30s. 
Danger Within, Friday 8th May at 7pm 
War Drama, directed by Don Chaffey and released in 1959. Stars: Richard Todd, Bernard Lee, Michael Wilding, Richard Attenborough, Dennis Price, Donald Houston, William Franklyn. The film follows an attempt to escape from an Italian POW camp by a group of British prisoners.
Silver Bears, Saturday 9th May at 5:45pm 
Comic thriller, directed by Ivan Passer and released in 1978. Stars Cybill Shepherd, Michael Caine, Louis Jourdan, Stéphane Audran, David Warner, Tom Smothers and Martin Balsam. The plot follows double dealing in the world's silver market, as financial wizard Doc Fletcher played by Sir Michael Caine, shows off his wheeler dealer skills. 
The Man who Fell to Earth, Saturday 9th May at 9:50pm
Science-fiction fantasy, directed by: Nicolas Roeg in 1976. Stars: David Bowie, Rip Torn, Candy Clark. The mysterious and complex Thomas Jerome Newton appears in New York. Despite his frail physical presence the strength of his intellect and scientific knowledge transcend contemporary human experience. 
Head to Talking Pictures TV on Channel 81 on your Freeview TV to watch now