With our tips and tricks, you'll find that you can use your TV faster, jump to the content that you want to watch and make browsing simpler.
There's so much more to your Freeview TV than just selecting the channel that you want to watch. With our tips and tricks, you'll find that you can use your TV faster, jump to the content that you want to watch and make browsing simpler.
All Freeview televisions will have similar controls, but your remote layout and exact instructions will differ depending on the TV or set-top box that you're using, so check your manual for exact steps if you need to.
Channel 100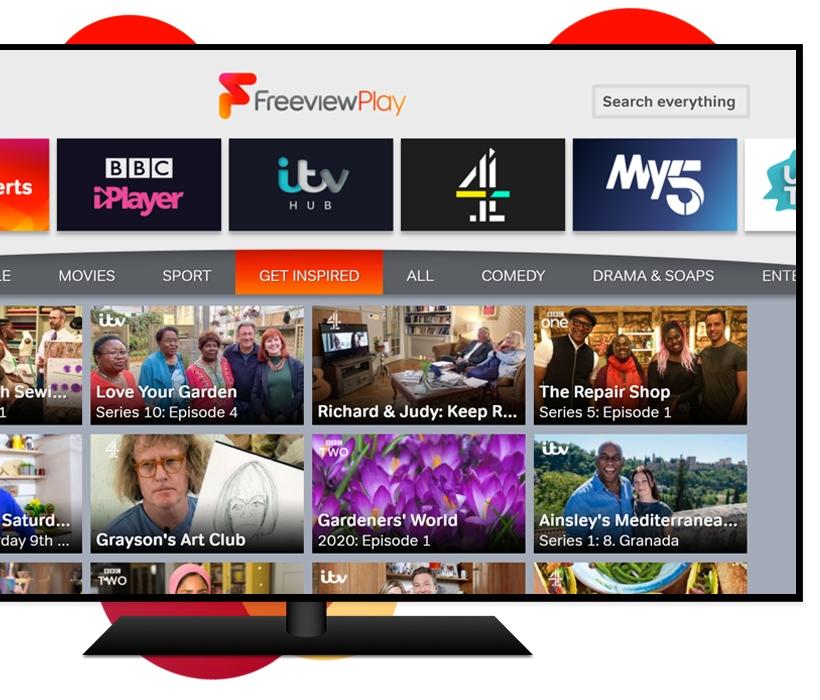 If you have a Freeview Play TV or set-top box it means that you've got on-demand TV built-in, so you can catch-up on shows that you might have missed. If you go to Channel 100, you'll see all of the on-demand players you can use plus a carousel of featured content to watch.
Freeview Play is host to seven on demand players, BBC iPlayer, ITV Hub, All 4, My5, UKTV Play, CBS Catchup Channels UK, and Horror Bites. There's over 20,000 hours of content to choose from, but with loads of hand picked recommendations, and a universal search function Channel 100 is designed to make it easy to discover new favourites. 
Browse our latest 'Get Inspired' category on Channel 100, featuring loads of inspiring content, such as Grayson's Art Club, The Repair Shop, or Great British Sewing Bee.
Restart your programme 
If you're watching a BBC channel on a Freeview Play TV, you can restart a live programme before it becomes available on demand – so if you are still making a cup of tea when your favourite show starts, do not worry you do won't miss a thing.
Press the green button on your remote control to load the BBC iPlayer app and start playback from the beginning. (Press the yellow button on your remote to remove the on-screen notification.)
Swap between two channels
Look on your remote control to see if you have a Swap button or similar. Pressing this will switch between the channel you're on and the last channel that you viewed. The best way to use this feature is to type in the numbers of the two channels that you want to watch, say two sporting events, then you can switch quickly between them to keep up-to-date with both.
Add your favourite channel
The settings for this one will differ by device, but most Freeview devices will let you choose your favourite channels. Select all of the channels that you watch the most (and don't forget to highlight the HD versions if available).
How you access your favourites will depend on the device you have: with my set-top box you press the Yellow button on the remote on the guide or now/next information box to view them.
Use the remote control shortcuts in the guide
Every remote control gives you shortcuts for using the guide. These can differ from device to device, but there's usually an on-screen legend that helps you. For example, in the screenshot below you can see that on the guide has the red button to jump back 24 hours, the green button to jump forward 24 hours, and the blue button to jump to now. The yellow button brings up the filter options, so you can view your favourite channels, just HD channels, radio or all.
Look out for page up and down buttons, often near the volume buttons. These let you skip up and down lists a page at a time, which makes scrolling through loads of channels to see what's on far faster.